Fifteen years in the making. It seems like yesterday when we began talking about starting a winery. Add two partners that were as passionate about the winery idea as we were and a rising star winemaker with a growing pedigree and acclaim.
From securing vineyard sources and designing a brand, to purchasing equipment, our team has left no stone unturned to make the best wine possible. This includes purchasing nearly twice the amount of grapes needed for the 500 cases we planned to produce so we could select only the best blocks and barrels for our blend.
This is our first vintage and it will be released two and a half years after the grapes were harvested. We are not in a hurry. Things like this take time.
- Dan Marino, Doug Donnelly, Chris Peterson, Kevin Hughes, Damon Huard
[ Play Video of Damon And Dan ]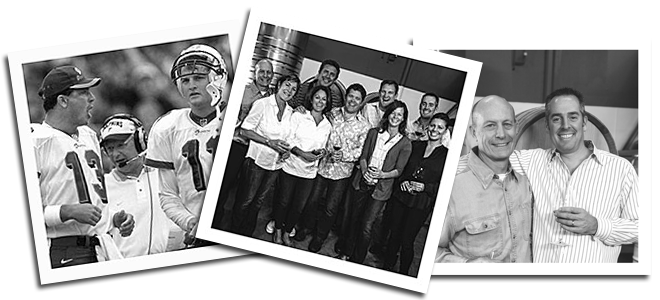 Photographs: Betts&Co | Video: Quantum Productions